Boston Harbor is part of Massachusetts Bay, a body of water that extends from Gloucester to the north,
Marshfield to the south and Provincetown to the east. It is the oldest continuously operated port in the Western Hemisphere, itself is made up of three smaller bays, Dorchester Bay, Quincy Bay and Hingham Bay, containing 1,200 square miles of land. And on that land rest the most coveted waterfronts in New England, the most prime coastline in the Northeast for hundreds of years.
The Boston Harbor is also the home of many great dining spots in the city. Great food and great views… it doesn't get much better than that.
If your travel to Boston longs for views of the busy harbor, spectacular sunsets and the perfect balance of historic and modern, head to these great dining options only a few minutes away from our Boston Bed and Breakfast.
Strega – Located on Marina Park Drive in South Boston, Strega has established itself as a top eatery for everything italian. The Lobster Fra Diavlo is highly recommended.
Anthony's Pier4
Anthony's Pier 4 is a delectable historic landmark on the Waterfront. The best thing on the menu? The chance of bumping into a famous celebrity while browsing the extensive and exquisite wine list.
Scups in the Harbour Scups in the Harbour is a gem hidden just on the other side of the river opened by restaurant owners from Emma's Pizza in Cambridge. The name was given after the dog that decided to adopt them and it is located inside the Boston Harbor Shipyard and Marina. It doesn't get much closer to the waterfront!
Tia's
Tia's Restaurant and Bar on the waterfront is adjacent to Christopher Columbus Park which is part of the Boston Harbor Walk. Their seafood choices are endless and their Clam chowder is one to beat in New England.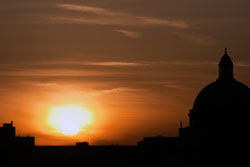 If at the end of the day you can fit a few more sights and sound of Boston, get ready for a beautiful sunset on our roof top deck. After long days of tours and sighnseeing, recharge and unwind just a few steps from your
Boston Bed and Breakfast
guest room on our deck. Not a day will go by that the view wont take your breath away.