This is the time of the year when we start realizing that winter is on its way and the year is almost over… As if it never happened before! Regardless of how sneaky the new year is being, fall is an excellent time to go to the theater. If your travel plans don't allow for a trip to the Great White Way, you are in luck! because Broadway is coming to you while you are in Boston.
The historically controversial "
South Pacific
" makes its way to Boston later this month daunting its songs about love and marriages that have vexed so many in the past. A truly timeless piece based on troubled loved stories in the World War II era that is sure to remind us all how far we have come in the last 50 years. It will be playing at the
Boston Opera House
for only 6 days from September 27th to October 2nd.
Get your tickets!
In December The
Shubert Theater
at the
Citi Performing Arts Center
will present the world renouned "
La Cage
" (La Cage Aux Folles). The characters once made famous on the big screen by Robin Williams and Nathan Lane are played by
George Hamilton and Christopher Sieber this time around on the Boston Stage. It doesn't get old watching Georges and Albin's struggle to stay true to themselves in this relevant and very fabulous tale. Get your tickets!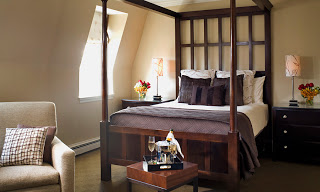 Boston is such a walkable city that the Theatres are so accessible especially from our location in the South End. You could take a taxi and be there in five minutes, from our Boston Bed and Breakfast or stroll the autumn streets of Boston and enjoy some of the fresh fall weather and sights. A good thing to know is many restaurants have an early bird or theatre menu which is perfect for our guests seeing a show. Simply plan to do a dinner at 5:30 or 6PM at the latest. Many of the restaurants are located between our bed and breakfast and the theatres, providing a convenient stop on your way to some entertainment. If you prefer late night dining, then have a snack before the show and check out Market by Jean-Georges after the theatre. This restaurant is located in the theatre district and is one of our favorites with or without the addition of a show.
See you there and check back soon for more things to do in Boston!