If your Boston travel doesn't allow for a day long beauty retreat, do not worry, there are several places in the South End where you can go for short beauty pick-me-ups that will leave you feeling beautiful inside and out in a matter of a few minutes.
These 4 great salons, a short walk away from this Boston Boutique Hotel, have plenty of things to do for you:


Lan Nail Salon is located at 583 Tremont St and is a locals favorite. Not only do they offer $25 Brazilian waxes, during the weekdays you get 20% off of their services, and during the winter paraffin treatments for your hands are free! Make an appointment by calling (617) 424-9977.
My Nail Salon is located at 669 Tremont St and offers a $37 manicure/pedicure combo and also offers waxing services. Contact them for appointments at (617) 424-6261
City Nails and Spa is located at 1260 Washington St and offers $25 Pedicures and $35 manicure/pedicure combos. A walk to City Nails and Spa is a great way to learn more about up and coming parts of our neighborhood. For appointments call (617) 988-8189.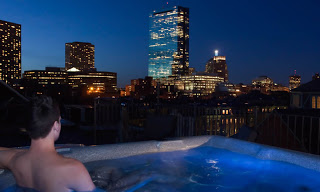 Located at 546A Tremont St, My ManiPedi Spa also offers great prices for manicures and pedicures at $12 and $25 respectively. For appointments call (617) 482-5550.
There is always an opportunity to relax at Clarendon Square Boston Bed and Breakfast. Our rooftop Hot Tub is open 24 hours every day of the year. You don't have to stop pampering yourself after you leave the salon.