This May, Boston is hosting the first ever Top Desserts event in Boston, spotlighting the best of the best in our city's sweets scene. On Thursday May 24th at the Mandarin Oriental Hotel, guests will be treated to a taste of a new dessert, or a dessert soon to be featured on the participating pastry chef's late spring/summer menus at the restaurants they call home. Tempt your tastebuds with southern-inspired treats from Chef Tiffani Faison's repertoire. Or maybe a French-inspired finale sounds like the perfect ending to your meal – Chef Jiho Kim from L'Espalier has recipes that are sure to please.


Other participating pastry chefs from Boston's food scene include Oliver Mailard of Deuxave; Katie Kimble from Cambridge's Area Four; David Nevin from his new Broad Street location at Nix's Mate; Charlene Smith from the always popular Sorellina; Shane Gray from the well-known South End favorite, Mistral; Maura Kilpatrick of the Sofra Bakery and Oleana Restaurant; Lauren Kroesser from the Kenmore Square hotspots Eastern Standard and Island Creek Oysters; and Jessica Pelletier of Harvard Square's Temple Bar.
This night of Top Desserts is guaranteed to insipre and amaze even the most discerning dessert palates. This adults-only event is sponsored by Stella Artois, so the evening is sure to entertain with lots of libations, live music from local bands, and a product sampling from Taza Chocolates. Charity minded folks will also be pleased to learn that Boston Magazine is giving back to the community, as a portion of ticket sales will be donated to the Greater Boston Food Bank organization.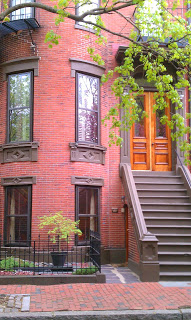 The Mandarin Oriental Hotel is located on the perimeter of the Boston Common, our city's beautiful and centrally-located park. Just a few blocks from this indulgently inspired party is our Bed and Breakfast. Start your day with a delicious breakfast and a fresh cup of coffee with guests in Clarendon Square's dining room. Spend the afternoon seeing the sights of our city, or relaxing on our roof deck patio during the warm spring sunshine. And allow the staff at Clarendon Square to find you the perfect dinner spot to kick off your evening, before you sample all the amazing treats that the Top Desserts event has to offer. Tickets are in limited supply, so get yours today – or reserve a room at the Clarendon Square Inn, and leave the arrangements to us!