The Emerald Necklace was a lifelong vision and twenty-year project for Frederick Law Olmstead, America's first landscape architect. The lush greenery, unique wildlife, blooming flora, and 6 footbridged waterways are only a few of the riches this urban jewel brings to the city of Boston parks and outdoor gardens.


Known as the "second link" in the Emerald Necklace, The Arnold Arboretum is a park for both scientific exploration and outdoor enjoyment. Open 365 days a year from sunrise to sunset, the Arboretum is North America's first public arboretum. With a visitor's center and bookstore in the Hunnewell building providing plentiful information, everyone from photographers to horticulturists, families to historians can find beauty to appreciate.
Owned by the city of Boston and leased to Harvard University for educational purposes for 1000 years, The Arboretum is host to Peter's Hill, the highest point in the 6 parks that make up the Emerald Necklace. Gorgeous skyline views from the Hill are a lovely way to end a hike, bike, or leisurely dog walk through the park.
Plant and agricultural life from other parts of the world have always been found in the Arboretum, and now during the month of June, the knowledgeable staff will be providing free guided tours in ten different languages starting at 2 PM on Saturdays and Sundays! Great for our international visitors, each tour will last about one hour and is geared toward adults. Stories of the Arboretum's history, design, mission, and current projects will be shared while enjoying the highlights of the spring season. For more information, check out the Arnold Arboretum online.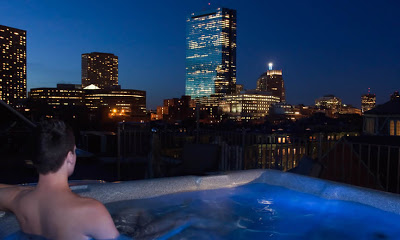 Many visitors have discovered the Arboretum while staying at our Boston bed and breakfast. Our
luxury accomodations in Boston
provide an equally peaceful urban oasis to enjoy while exploring the city. Our staff would be happy to help you plan your visit to the Arboretum, and find other exciting
things to do in Boston
. If you're looking to bring some of the outdoors to where you stay, Clarendon Square Bed and Breakfast has a beautiful roofdeck with a jacuzzi hot tub with panoramic city views, and a private deck for guests to enjoy a warm sunny afternoon or their morning cup of coffee. Fresh flowers, vibrant decor, and lavish guest rooms make a trip to the Arboretum feel like a natural extention of your stay at Clarendon Square Bed and Breakfast!