Clarendon Square Boston Bed and Breakfast is located in one
of Boston's most stylish and thriving neighborhoods – The South End. Guests of
the Inn are often amazed at the distinct charm, character and offerings that
the neighborhood treats them to. The location of the Inn offers guests a prestine gateway to all Boston has to offer. From the diverse and lavish cuisine found on
"Boston Restaurant Row" to the talented artists and their flourishing
galleries, the South End offers a gateway to a more sophisticated side of
Boston. Though it has become one of Boston's most sought after locations to
live in, dine in and visit, there are still a few lesser known things about the
South End.
Boston College was originally founded on James Street in the South End in 1863. It later moved to its current Chestnut Hill location to accommodate rapid expansion.
The neighborhood is home to a series of 11 residential parks, many of which boast a central fountain, cast iron fencing and are elliptical in shape.

Most of the cross streets in the South End – including Clarendon Square's Bed and Breakfast location on West Brookline Street – are named after cities that were serviced by either the Boston and Providence Railroad or the Boston and Albany Railroad.
The first settlement houses in Boston were founded in the neighborhood. They included the South End House, Haley House, Lincoln House, the Harriet Tubman House and the Children's Art Center. At present, they are the United South End Settlements.
The South End was built on a formal tidal marsh, which was filled in as a small part of the larger Back Bay project.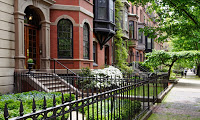 The South End is truly in the center of Boston. With beautifully preserved Victorian architecture, lush tree lined, brick and cobblestone streets, the neighborhood offers a quiet reprieve from the hustle and bustle of downtown. We recommend anyone traveling to the area spend time in this historic, hip and beautiful neighborhood.