Looking for the ultimate in luxury day spa in Boston? Here at Clarendon Square Boston Bed and Breakfast, we love G2O, Boston's Green Day Spa Resort. From the chic and modern décor, lavish services and focus on the guest experience, we can't get enough of G2O! Nestled on best shopping Newbury Street between Boston's finest shopping destinations and outdoor cafes, G2O provides the ultimate in luxury and pampering. Here are six things we love about G2O:

1. Brine Inhalation Therapy Relaxation Room: One of the many amenities included with all services, leave time to spend unwinding while breathing in invigorating salt air. The three-tiered waterfall creates a serene atmosphere certain to deepen your relaxation. Curl up under one of their blankets on a plush lounge chair and breath deep, the combination of salt and oxygen is beneficial for your repertory system!
2. Skylight Hot Tub: Make sure to pack your suit, this penthouse level hot tub is the perfect way to unwind. The sky views and windows overlooking famed Newbury Street are not to be missed. And in case you do, there is always our hotel rooftop hot tub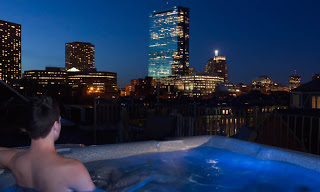 3. Bali Paradise Experience: This signature body treatment is truly one of a kind! A blend of fruit extracts, customized oils and herbs is used in a therapeutic steam treatment in the exclusive Experience Room. You have never seen anything like this before!
4. The Nap Pod: The perfect way to end any spa service – a twenty minute visit to the private nap pod! Soft light, calm music and an aromatherapy gift on your pillow, G2O invites you to sleep after your treatment. You can schedule a trip to the nap pod when you make your reservation or at check-in.
5. Private Parties: G2O offers packages that meet everyone's needs! From bachelorette parties, day of bridal services, a girl's weekend or romantic couples trip, G2O aims to please. You can have the penthouse all to yourself – they will even arrange for lunch, dinner or light refreshments to be brought in. We recommend the Bali Paradise experience for any group!
6. Men's Spa Services: G2O is not just for girls! They specialize in men's services and packages. From the Men's Conditioning Facial custom tailored to "his" specific needs, to sports manicures and pedicures and deep tissue massages, guys are sure to enjoy a day at G2O. Even the couple's experiences are sure to delight the guy in your life!
G2O is truly one of Boston's premier luxury day spas. The modern décor offers soothing details and luxurious amenities sure to pamper and relax each of its guests. Planning a trip to G2O Spa & Salon is a unique Boston experience we highly recommend. Guests of the Inn can book special packages reserved for guests through our Clarendon Square Bed and Breakfast Inn Keepers. G2O is the perfect complement to any weekend getaway to New England.