With the holidays quickly approaching and upcoming plans for mom and dad, family or friends to visit being made, many Bostonian's find themselves searching for the perfect place for their guests to stay. Many of the city's residents face similar challenges when it comes to hosting Mom and Dad when they visit New England: there just isn't enough space to comfortably accommodate them in your own home. Whether you live alone or with roommates, Bostonian's are rarely left with extra space that would allow them to host an extended visit from parents or relatives. Though the city boasts many fine hotels, often times parents, relatives and their city dwelling host want to create a more comfortable and real-life Boston experience than hotels can't offer.


Luxury bed and breakfasts are a great alternative when arranging or making suggestions for you guests' travel accommodations. Unlike big hotels, guests experience a warm, personal approach to exploring Boston. Located in vibrant, yet quiet residential neighborhoods, bed and breakfasts allow guests to have a more real life stay. From the conversation and social connections made over a hot cup of coffee at the breakfast table, to the unique furnishings and decor that they boast, luxury bed and breakfasts combine the five star hospitality you expect from a large hotel, with the comforts of home and distinct style of the neighborhood which it resides in.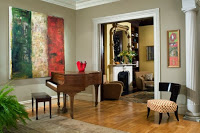 Bed and breakfasts also offer your parents, relatives or friends a unique lens to view Boston from in the form of a host. Unlike hotels where staff rarely get to know guests, hosts at luxury inns are excited to know the individual preferences, wants and expectations their guests have for their time in the city. Clarendon Square hosts aim to create customized recommendations, restaurant reservations and information of interest to each guest as way to enhance their stay and provide fun things to do in Boston. From booking reservations at Sorellina, to arranging spa services at Emerge and passing along inside information about the Boston Freedom Trail, you can rest easy knowing your parents or loved ones are in the qualified hands of an inn host.
So whether it is mom or dad, a good friend or you are looking for a place for yourself in another city, considering looking for a luxury bed and breakfast when making travel plans. The personal, comfortable yet refined approach to hospitality that they offer is sure to create a distinct travel experience you won't soon forget.