We were so blessed to meet our recent guests Tom & Janet and learn about their travels & commitment to give back to those in need. It is our honor to introduce you to them. Please take a time moment to watch this inspiring video and read a little more below about this incredible organization providing hope to so many in need.
Magicians Without Borders is a 501C(3) organization that performs magic shows for children facing extreme circumstances, whether that be in refugee camps, orphanages or hospitals. Magicians Without Borders travels around the world -often to war torn places where love, laughter and magic are rare but desperately needed commodity. The beauty is magic is a universal language that rarely needs translation into the numerous languages of the countries they visit.
The organization began when Tom Verner, a professor of Psychology, was traveling through Eastern Europe in 2001 and performed magic shows in the refugee camps in Kosovo and Macedonia. The magic performances were very well received, and with that experience Tom took a hiatus from teaching and decided to perform full time.
The next step was setting up the non-profit organization, Magicians Without Borders, which allowed Tom to accept contributions to fund his work. The trips just like magic would not be possible without those who believed in the important mission, and thanks to the generous contributions of individuals, corporations, organizations, friends and family Magicians Without Borders grew.
Presently, Tom and his wife Janet, a visual artist and teacher, take six trips a year. Janet performs as a mime &clown in the shows. Together they have traveled to Ethiopia, Sudan, Uganda, Tanzania, Somalia, India, Bangladesh, Macedonia, Kosovo, Serbia, Bosnia Croatia, Ukraine, Haiti and Colombia. However, war torn countries are not their only destinations. They performed for a month in Thailand and Burma following the devastating Tsunami and traveled throu
gh Alabama, Mississippi and Louisiana after Hurricane Katrina.
Tom and Janet travel to El Salvador with along with a team of magicians and theater teachers every three months. This is crucial to developing Magicians Without Borders goal of education by sponsoring a week long Magic, Theater and Art Camp for these children who live in poverty surrounded by brutal gang violence. Young magicians can begin to perform in local orphanages, hospitals and disaster areas. There is the hope that one day some of them will travel with Tom and Janet to bring the same magic and laughter to other children in need around th
e world.
Magicians Without Border was honored to receive an invitation from the United Nations to create a magic show that teaches children and adults about HIV/AIDS.
Tom describes thei
r work as, "I like to think that the magic brings not only laughter and surprise, but on some deeper level. Perhaps, magic p
lants seeds of hope. Hope that the impossible is possible. Hope that after years of waiting in a refugee camps, the waiting will end and the people will go home again."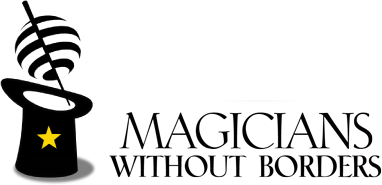 Magic is real and the effects of magic can change the world. With your generosity we can keep hope alive for thousands whodesperately need it. A li
ttle magic will help child with difficult circumstances, laugh, learn and live a more productive life.
As a special offer to our donors of $100 or more we will sen
d you a copy of Janet's book, Mango Basket and Rickshaw Blessings, full of colorful paintings from her many travels with Magicians Without Borders. Janet, also known as LaFleur, and wife of Tom Verner, volunteers as a mime & clown.
Thank you for your support. Keep the magic alive and growing please consider donating now!
Please join us in supporting Magicians Without Borders. Please leave a comment below!